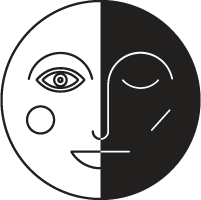 Damn Joan is a unique take on modern publishing—one that puts the audience first. With the premium visual quality of a newsstand glossy, the irreverent attitude of an old-school zine, a talent roster that ranges from unexpected icons to dazzling unknowns, and an advanced, elegant user experience, we're a destination for readers who are tired of being sorted into verticals and are ready for an intuitive, story-driven environment. Join us every month for a concentrated dose of visually driven journalism, personal stories, social exploration, political manifestos, and style statements from insiders, outsiders, and everyone in between. 
Oh, and the name. Well, "damn" is one of our favorite words. It's an exclamation, a proclamation, a flirtation, and sometimes a condemnation. People say "damn" in reaction to holy-shit ideas and provocative acts, and in reference to rascals, rabble-rousers, and revolutionaries. When you add that to all of the joyful, angry, determined, stubborn, rebellious, thoughtful, hopeful, and sarcastic Joans who inspire us—Joan Jett, Joan Didion, Joan Armatrading, Joan Chen, Joan Collins, and Joan of Arc—you get Damn Joan.
Damn Joan was founded by Lisa Clunie and Jaime Robinson, who are also the founders of Joan Creative. 
MASTHEAD
Lisa Clunie, chief executive officer
Jaime Robinson, chief creative officer
Mikki Halpin, editor in chief
Denetrias Charlemagne, head of growth
Lauren Teng, editorial manager
Emily Mahaney, deputy editor
Kaitlyn Tiffany, audience development manager
Tess Cagle, editorial intern
Stacy Cousino, copy editor
Juan Martinez, developer
Special thanks to Keryce Chelsi Henry, Joyce Lee, Dan McBride, Dayna Uyeda, and Claire Wyatt.
We'd also like to thank: Jason Adams, Patty Adams Martinez, Lisa Addarich, LA Baker Brown, Kaye Blegvad, Meredith Bergonzi, Canada Dry Seltzer, Cortney Cassidy, Deb Charlemagne, Lia Clay, Christen Clifford, Scarlett Curtis, Johanna Fateman, Sarah Sophie Flicker, Mike Funk, Kiran Gandhi, Sara Gran, Simon Griffee, Kathleen Hanna, Rebecca Henry, iRAWniQ, Michelle Lamont, Chris Mainenti, Alana Massey, Sarah McCarry, Jennifer Meyerhardt, Mighty Oak, Dee Poku, Monica Ramos, JD Samson, Deb Schwartz, Akua Shabaka, Teresa Toro, Carissa Tozzi, Rachael Wang, and Russell Wells. 
Major thanks to our friends at Joan Creative: Dave Canning, Jorge De La Garza, Megan Dwyer, Chelsea Freitas, Line Johnsen, Cara Johnson, Michelle Lamont, Joyce Lee, Alysia Lewis, Tom Mandel, Rose Sacktor, Karla Stewart-Vitrone, Dayna Uyeda, Dominique Ward, and Claire Wyatt. 
Contact information
General Information: admin@damnjoan.com
Press inquiries: press@damnjoan.com
Story ideas and pitches: submissions@damnjoan.com
Questions for Freckle: advice@damnjoan.com
Our mailing address is 443 Park Avenue South, Third Floor, New York, NY 10016