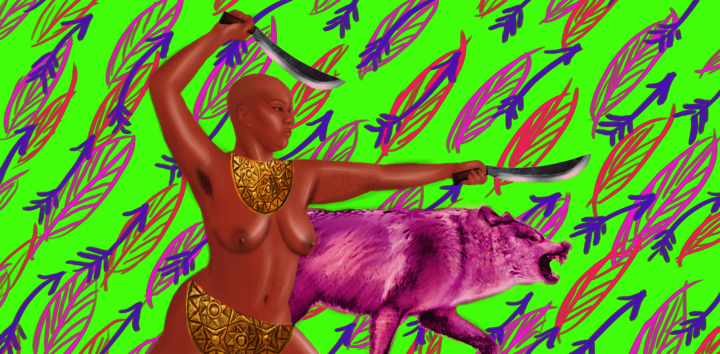 Artemis Rising
by Nikita Gill
Illustrated by Zahira Kelly-Cabrera
Poet Nikita Gill has wolves and warriors on her mind.
• • •
Artemis has been waiting for you,
wearing the skin of a jean-clad rebellious girl,
soft ancient eyes silently piercing the facade of every
night-spun human to see into their star-blooded soul.
She has been patient like a predator waiting for prey,
everything hungry knows how to be silent in the dark,
but the ichor in her body finally sings when the clock turns
to this year, the year of the wolf, the year of the hunt.
This hidden Goddess has been raising a secret army
of rebel women ravenous for a chance to seize their place.
Together they survey the dawn-soaked newborn world,
about to begin their hunt of unapologetically reclaiming their space.
Now it begins, the year of the woman—the wolf—the hunt,
a time to fight for what is yours. Artemis is leading the wars,
her battle cry for every warrior woman to never give in, for it is time
to find our bliss by taking back what has always been ours.

NIKITA GILL is a writer and artist living in the South East of England.
ZAHIRA KELLY-CABRERA aka @BAD_DOMINICANA is an artist/writer/sociocultural critic/social media personality/international speaker whose focus is Afro-Latina feminist advocacy.  
Writer: Nikita Gill
Illustrator: Zahira Kelly-Cabrera
Published on 2-12-2018