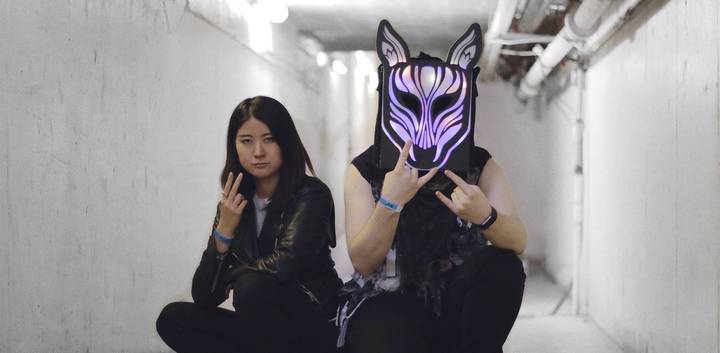 Damn Joan Recommends
An artist who specializes in optical illusions, a bisexual anthem, and other books, movies, and music on our radar this month.
• • •

WATCH: An Artist Who Will Deceive Your Very Eyes
If you've ever watched The Joy of Painting hosted by Bob Ross and thought, This is relaxing, but what if it could make me hallucinate a little? you need to go back inside the vault and check out this 1970s documentary on artist Bridget Riley. Riley is a British painter known for geometric artwork that tricks (oh hi!) the viewer into thinking they're literally moving. The documentary is part interview, part flashing artwork, part Bob Ross–style painting demonstration. It's trippy. Bottom line: When watching Riley becomes the newest meditation fad, just remember that Damn Joan called it first.

READ: A Novel About Wry, Relatable Black Characters
There's been a lot of buzz about Nafissa Thompson-Spires's short-story collection, Heads of the Colored People: Stories, and, in this case, the buzzers are correct. Thompson-Spires examines black identity through a number of memorable black characters who have little in common aside from race. She reveals complex backstories about each of these characters through everyday situations, like walking to a comics convention, starting a new job, waiting in line at the DMV, or in one case, through the passive-aggressive letters exchanged between the bougie mothers of two young classmates. Her dark humor will trouble your politically correct funny bone, with jokes about suicide and wheelchair fetishes. Set aside a few hours to read this book—you won't want to put it down—and a few more hours to process.

LISTEN: Bouncy Garage-Rock Lyrics That Feel Ripped From Your Diary
Rolling four women deep, Hinds is the most successful garage-rock band to emerge from Madrid in the past few years. Much of the band's acclaim stems from the wear-your-heart-on-your-sleeve nature of their 2016 debut album, Leave Me Alone. On their sophomore record, I Don't Run, available now, the group reflects on the by-products of their newfound popularity. Singer-guitarists Carlotta Cosials and Ana García Perrote wish they could be "somebody new" on the lead single "New for You" and make a plea for some space on "Finally Floating." But even with slightly more serious subject matter, Hinds is quick to remind fans that they're still the same chill girls from Spain, whether it's with a vulnerable lyric or a twangy guitar lick.

WATCH: The Return of Your Girl Michelle Pfeiffer
The new movie Where Is Kyra? is about the invisibility of women in many facets of society, sure—but it's also the question you'll be asking while watching this suspenseful drama. Kyra (played by Michelle Pfeiffer) is desperately trying to get by after her divorce, the loss of her job, and the death of her mother—and the film is so shadowy and muted at times that you can barely see her. Kyra, you there? This obscured vision is no mistake: Director Andrew Dosunmu is essentially forcing the audience to make an effort to see Kyra as the people in her world brush her aside. With the help of some squinting, you'll see the talented actress as a middle-aged woman who's woeful but determined to reglue her shattered life.
Few people have the kind of raw talent that Janelle Monáe possesses. Since breaking onto the music scene about a decade ago, Monáe released a series of funk albums, appeared in two Oscar-nominated films, and yes, singlehandedly brought back the suit and tie (nice try, Justin). She announced her upcoming album, Dirty Computer, with stellar videos for singles "Django Jane" and "Make Me Feel." The former shows off her impressive pipes; the latter is a funky, impassioned confession of sexual attraction that the Twitterverse has hailed as a bisexual anthem for our times. She's followed them up with "PYNK," a Grimes collab that takes place in a cotton candy universe where the sun is shining, everything is magenta, and gal pals do choreographed dance routines in architecturally improbable vagina-shaped pants. The album drops on April 27.

WATCH: An Intimate Portrait of Life Near the Happiest Place on Earth
Indie gem The Florida Project is available on Amazon Prime this month, so we can finally stop complaining about how its limited theater release prevented many from witnessing its quiet magic. It's a heart-tugging and visually vibrant slice-of-life story following permanent residents of the motels near Disney World, including six-year-old Moonee (Brooklynn Prince), her young mother Halley (Bria Vinaite), and the motel manager Bobby (Willem Dafoe). Thanks to standout performances from legend Dafoe and impressive first-timers Prince and Vinaite, The Florida Project will get your emotions in a bunch and make you rethink your childhood dreams of living near Disney World.

READ: A Novel About Women's Rights Activists for All You Resisters
In Meg Wolitzer's new novel, The Female Persuasion, meek but opinionated Greer Kadetsky goes to work for the women's rights activist Faith Frank, a catalyzing figure uttering the kind of life-changing words that rally crowds. As Greer evolves under Faith's tutelage, so does Faith herself. The book clocks in at 454 pages, so there's plenty of room to see these characters' lives transform. The Female Persuasion follows these characters as they play tug-of-war within power structures and struggle to make their mark before their time on earth is up.

LISTEN: Kimbra's Braggadocious Declarations
It's about time Kimbra was known as more than just the featured artist on Gotye's earwormy "Somebody That I Used to Know." We've got a hunch that her third album, Primal Heart (out April 20), will earn her due props for her distinctive blend of pop, jazz, R&B, hip-hop, and electronic music. The record takes listeners on a journey to self-confidence, but instead of the expected route from timidity to certainty, it starts off with a bold hair flip: Kimbra sing-raps braggadocious declarations ("See me on telly/See me on billboards and banners/See me with white picket fences/Now watch me build up my palace") on the second track, "Top of the World." Then, halfway through the tracklist, she makes a 180, questioning her path and whether she truly wants to take it alone. Even with this uncertainty, the album ends on a high note, with Kimbra singing "Just keep your head up in the real life" on the closing track. Real and reassuring.
This month's playlist is brought to you by Qrion, a DJ/producer from Japan, who started creating music by tinkering on her phone and now boasts a host of releases and a tour that's taken her all over the world. The mix she made for us features songs she listens to when she's "lying to [herself] to make things better." Been there.