Stop the NRA
In the 19 years since Columbine, more than 187,000 students have been exposed to gun violence at school, according to research from The Washington Post. That's too many. To support the National School Walkout on April 20, 2018, organized by students from Ridgefield High School in Connecticut and other youth activists, Damn Joan partnered with Gays Against Guns—a group dedicated to stopping the NRA through peaceful and direct action—to create this video. To learn more about GAG and the work it does, read our interview with organizers Kevin Hertzog, Paul Rowley, and Brigid McGinn below. 
If you would like to download a copy of the video to share online, please click here. You can also view it on Damn Joan's Instagram or the GAG Instagram.
• • •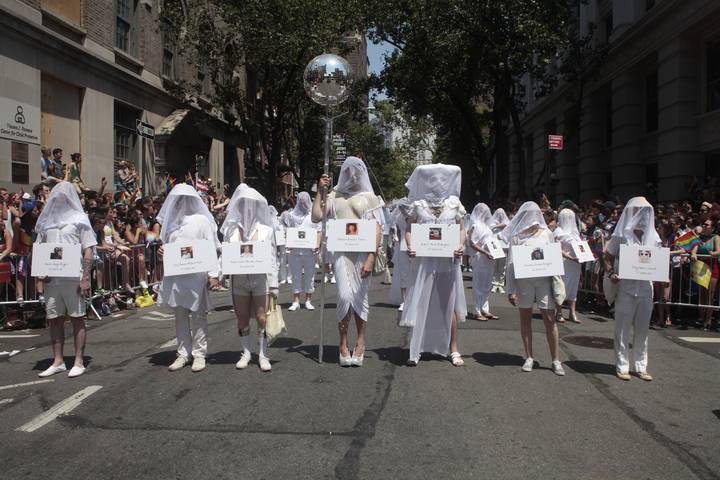 The National Rifle Association (NRA) is like the Roman Empire: It may seem impenetrable, but even Rome fell. That theory comes from Kevin Hertzog, an organizer for Gays Against Guns, a direct-action group of LGBTQ people and allies who want to break the gun industry's chokehold on firearm laws. "There is an idea that the NRA is an impossible rival to fight, but the NRA is not infallible. They're an organization like any other that will go through periods of popularity and unpopularity," Hertzog says. "And we're going to do everything we can to presage over a new era of unpopularity for them."
The group formally organized after the 2016 shooting at Orlando's Pulse nightclub, a vicious attack on the LGBTQ community, which left 49 people dead. "A gay club is a weirdly sacred space for us," says Hertzog. "To think gays could be desecrated that way was a punch in the gut. We [organized] as an emotional reaction to the violation that mass shooting represented."
Since then, Gays Against Guns has become known for spectacular, front-page-landing demonstrations. "We combine solemn protest, irreverent street theatrics, and defiant political targeting," explains organizer Paul Rowley. Indeed, their signatures include an "NRA sashay away" runway, complete with drag queens tossing glitter; the GAG chorus (name: Gag Reflex), which performs old songs recast with sarcastic new lyrics like "Donny the Con Man" to the tune of "Frosty the Snowman"; and the emotionally wrenching "Human Beings," figures dressed in white who walk silently through protests and marches, memorializing people killed by guns. "The 'human beings' wear veils and hold a placard that has information about someone who lost their life to gun violence," says Hertzog. "They remain silent and meditate on the life of the person they're representing." (Performance artist James "Tigger!" Ferguson introduced the idea of the "human beings" at GAG's first meeting.)
GAG is cheerfully insistent that change can and will happen—a welcome note of positivity in a movement that has often felt stalled or blocked by an unbeatable, monolithic force. "The lesson that people can take away from Gays Against Guns is a lesson you can take away from gayness in general," says Hertzog, "which is to come out. If people came out as gun-violence-prevention advocates, we'd have more power."
I asked about how we should use that power. —Emily Mahaney
 
"If people came out as gun-violence-prevention advocates, we'd have more power."

EMILY MAHANEY: The 19th anniversary of Columbine is this coming Friday, April 20. More than 187,000 students have been exposed to gun violence at school since the Columbine shooting in 1999, according to The Washington Post. Have we, as a country, done enough to stop gun violence at schools over the past 19 years?
BRIGID MCGINN: We haven't done enough. By far.
EM: Why? What stopped us?
KEVIN HERTZOG: The most striking characteristic difference between the gun-violence-prevention movement and the gun rights activists is that gun rights activists have a monolithic voice. They have a well-funded organization that gives them an avenue to have that voice heard and used for recruitment. And they have a sophisticated propaganda machine, which works to bolster their message and engage their membership. We don't have that. We have very disparate groups that are generally like our own, organized around a particular mass shooting and a particular demographic. And we haven't yet been able to come together and join forces in order to make a powerful, meaningful statement that expresses to legislatures—and to the culture at large—that it's an admirable thing to be in favor of gun violence prevention.
PAUL ROWLEY: Speaking as someone who didn't grow up in this country, who grew up in Ireland, what I've noticed is how gun ownership is tied to national identity for a lot of people. If you are opposed to guns in any way, you're somehow treasonous or anti-patriotic, which is just so nuts.
BM: That's what the NRA has done. They have made the Second Amendment their tool for intimidation, because nobody wants to challenge the rights of Americans, right? Everybody wants their rights. Nobody wants to take anybody's rights away.
EM: Kevin, you mentioned that the gun-violence-prevention groups are disparate. Since the shooting in Parkland, FL, do you feel like all the disparate groups are doing a better job of talking, working together, and supporting one another? Is there more coalition-building now?
BM: Well, I think they're being forced to by [the Parkland] kids. They're forcing gun-violence-prevention groups to start paying attention to those people who aren't getting a voice in the conversation. Those kids are saying, 'Hey, wait a minute. What about the black kid from Chicago?' They're not just making it about protecting their own safety.
EM: They're drawing parallels.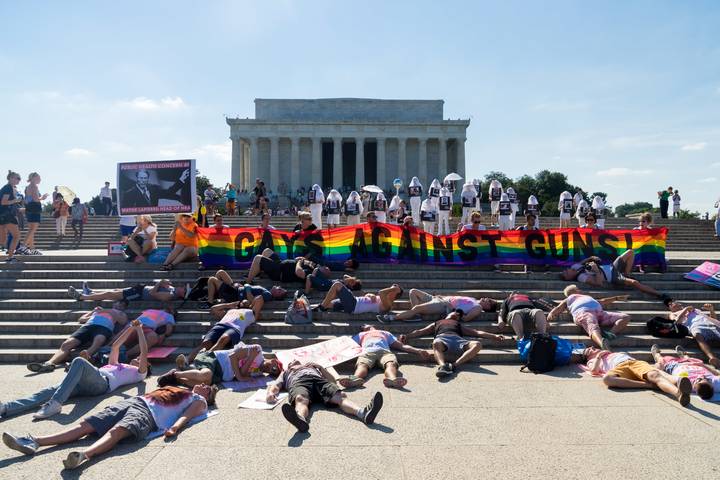 BM: That was really important to Emma González and the other children we spoke to down in Parkland recently. They would say: Do you know how many kids are murdered every day? These kids are very aware of all the other kids that have suffered daily.  
EM: We're accustomed to hearing data about the individual incidents—for example, the 17 people killed in Parkland. You rarely hear that collective number, more than 187,000 students exposed to gun violence at school since Columbine. What is your reaction to that number?
PR: That number is impossible for me to get my head around. I mean, that's a city. That's like everybody in a city. How many schools? And how long is that impact going to stay with those kids? For most of them, the rest of their lives. Gun violence is a public health crisis in this country, and it's not being treated as a public health crisis.
EM: Has the influx of action—the March for Our Lives, the Women's March Youth walkout, the upcoming National School Walkout—felt promising to you? That change is coming?
KH: So I do think that this is different—because of the attention, the sustained effort, the way that the students have made an effort to be inclusive, and the cumulative effect of this many years of the same thing happening with nothing changing. I'm optimistic now because I feel like this has shown everyone, including lawmakers, that there is an enormous amount of support. And it's being directly tied to elections. It's being called out as a single-issue topic in terms of voters—that has the potential to make a big difference.
EM: What role do you feel organizations like Gays Against Guns have in these student-organized demonstrations?
PR: As the queer community, we've been fighting for a very long time. We're not afraid to stick our necks out. At GAG, we're in your face and we're on the street.
BM: We set up the GAG plaza at the March for Our Lives as a support to the students who were doing their rally and speeches. We were at the end, playing and being irreverent, having our "NRA sashay away" runway, but we also had the human beings come, which brings attention in a more somber and respectful light. We're like a good movie that takes you up and down, through your emotions, and we get people to listen. I think that when the younger generation sees this, they'll be like, "Oh, OK, we can be political activists and not be suits."
PR: And have fun!
EM: There is a longstanding view that you can't fight the NRA. It's too big of a machine. Is it impossible to fight it?
KH: The day before Trump's inauguration, we went to the NRA headquarters, carrying our banners and signs. We're not the first group to do that, but there is an idea that you don't dare go there. There is an idea that the NRA is an impenetrable and impossible rival to fight. Well, the Roman Empire fell. [Laughs.] Nothing lasts forever.
 
"There is an idea that the NRA is an impossible rival to fight, but the NRA is not infallible."

PR: If we can get it to the point where being funded for your political campaign by the NRA is no longer something not to be ashamed of, that would be fantastic.
BM: If accepting funding from the NRA keeps you from getting elected, we have made a big win.
EM: How do you think we can best honor the lives of those who have fallen and those whose lives forever changed because of gun violence in those 19 years since Columbine?
BM: Put sensible gun laws in place. Get those automatic weapons out of here. We owe it to them to change our laws. To amend the Second Amendment.
PR: And to save other kids and other people. The greatest way to honor the dead is not to let more people be murdered just like they were.
KH: The gun-violence-prevention issue is life or death. Inaction equals death. So I would say the biggest takeaway for anyone is to do something.
Click here to donate or get more information about Gays Against Guns; here to learn more about the National School Walkout; and here to register to vote.
EMILY MAHANEY is the deputy editor of Damn Joan.  
SARAH MCDOWELL  is a director based in New York City who's never eaten meat...ever.
Story producers: Mikki Halpin and Paul Rowley. Producer: Lauren Teng. Director, Sara McDowell.  DP: Adam Giese. AC: Spencer Thielman. Gaffer: Alexa Hiramitsu. Key grip: Brandon Barron. Grip: Colby Smith. Jib operator: Mike Randazzo, Jib Guys Inc. Jib tech: Bobby Gallipoli, Jib Guys Inc. Edit, color, and sound: Molly Holtzinger. Animation: Kai Asika. Stills: Rockie Nolan. PA: Janice James. Additional styling: Griffin Hall. Filmed at Be Electric Studios.
Human Beings: Andres Toro, Anna Mullen, Brooke Didonato, Courtney Yates, Daniel Werner, David Johansen, Dee Charlemagne, Erica Sellers, Felipe Amaral, Fran Benitez, Janice James, Ginna LeVine, Griffin Hall, Hal Moscovitz, Jeremy Cohen, Josh Bareño, Katharine Grey, Ken Kidd, Kory Gittens, Libby Edwards, Lou Market, Luis Rivera, Malcolm Jamieson, Mara Hennessey, Mari Gustafson, Mark Bradley, Maryellen Novak, Paul Rowley, Radimir Koch, Richard Cadillo, Riley Buttery, Russel Siegel, Samuel Eyob, Stephen Mass, Susan W, Ti Cersley, Victoria Streker, Wale Agboola, Whitney Eidman.

Collage images: 1, 2, 3: Alamy. Collage image 4: Shutterstock. Street image: Paul Rowley. DC image: Jeremiah Waters.

Sources: 33 school shootings in 2018: everytown.org; 197 school shootings since Columbine: The Washington Post; 1,300 children killed by guns every year: American Academy of Pediatrics; more than 187,000 students exposed to gun violence since Columbine: The Washington Post. 
Published 4-16-2018