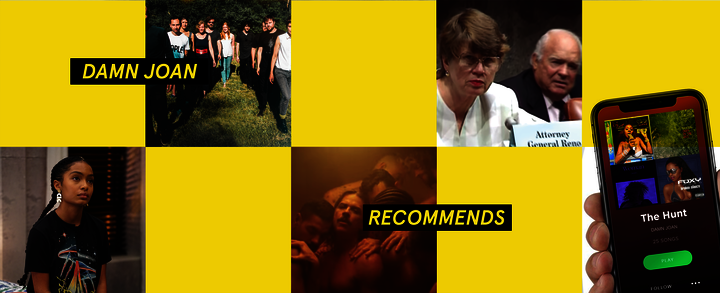 Damn Joan Recommends
We've been on the hunt (get it?) for the best stuff to read, watch, and listen to this month. Enjoy!
• • •
If you've ever wondered what it would sound like if Fiona Apple and BadBadNotGood hopped in a time machine to work with Bach, this collaborative album from synthpop band Poliça and Berlin-based orchestra Stargaze delivers some insight into your (oddly specific) fantasy. Poliça frontwoman Channy Leaneagh provides the introspective lyrics, while Stargaze—a troupe of classically trained musicians—somehow seamlessly shape-shifts in and out of R&B, electro-pop, rock, and jazz. Together they make Music for the Long Emergency less an album and more an all-encompassing experience. "How Is This Happening," a 10-minute epic on the dire state of the world, clarifies the downer album title. However, tumultuous times don't prevent love, happiness, and beauty from existing, and Music for the Long Emergency (out February 16) reminds us of that.
Some artists build buzz on Instagram for their comeback albums; Fischerspooner had an orgy—a simulated one, that is—in the music video for "TopBrazil," off the sexually explicit Sir, coming (pun intended) out February 16. The album, Fischerspooner's first in nine years, is a nightlife record, thanks to Warren Fischer's dance-floor-ready beats. But it's a breakup one too: Simmering beneath the catchy hooks and smoky sensuality are vocalist Casey Spooner's turbulent emotions after ending a long-term relationship and being thrust into a dating scene in which apps bear just as much importance as actual dates. Helping him navigate the new terrain is his friend and former ex Michael Stipe of R.E.M., who serves as both muse and collaborator.
Just when we thought kids these days didn't know about good ol' prime-time television couples, Grown-ish is giving them Dawson's Creek–level romance with Zoey and Cash's relationship. An intelligent and ambitious girl falling for a revered athlete fits right in with the shows that defined our childhoods, and Grown-ish shamelessly plays into all the tropes: She thinks he's shallow, he turns out not to be, the guy whom she originally had a crush on becomes jealous—you get the drift. But what keeps things of-the-moment is the worldliness and self-awareness that distinguishes the Gen Z characters; they talk about their emotions in ways that we only could after a year of regular therapy sessions. Add to that the fact that Grown-ish is hilarious, which makes us not feel so bad about being addicted to a show we're probably too old to be watching.
The Time's Up initiative and the revival of the #MeToo movement have provided ample opportunities to hold people accountable for problematic actions, notably so when people of the Internet called out Justin Timberlake for wearing a "Time's Up" pin to the Golden Globes after working with Woody Allen. Just when it seemed as though the dust had settled on the issue, Timberlake moved on to imploring on Twitter about the meaning of having his cake and eating it too. With expert timing, the maverick Dylan Farrow responded, "You can't retain your credibility as an activist (i.e., retain the cake) and, at the same time, praise a sexual predator (i.e., eating the cake)." Now we reread the exchange every morning to start the day with a smile on our faces.
Some necessary history lessons
February 11 marks 25 years since the late Janet Reno's nomination by President Bill Clinton as the first-ever female attorney general of the United States. Her nearly eight-year tenure was marked by her popular no-nonsense attitude and the equally popular Saturday Night Live sketch "Janet Reno's Dance Party," featuring Will Ferrell's impression of her as the strict host of a teen talk show. In honor of the history-making anniversary, we're revisiting this (very '90s) MTV interview with Reno.
Also, with February being Black History Month, it's the perfect time to dive into "Unpublished Black History," an interactive feature by The New York Times that compiles previously unreleased photos and stories. Our favorite photo, you ask? The one of actress, singer, and civil rights activist Lena Horne clad in a leopard coat while seated in her Upper West Side penthouse—which she was able to purchase in spite of Manhattan's racist landlords because fellow performer and activist Harry Belafonte bought the building so he and his friends could live there. Talk about black excellence.
A soundtrack that can channel your greatest hunger, desires, and ambitions, created by Nargis Sheerazie, Future Perfect Music producer and sandwich entrepreneur at pop-up restaurant Avocado.