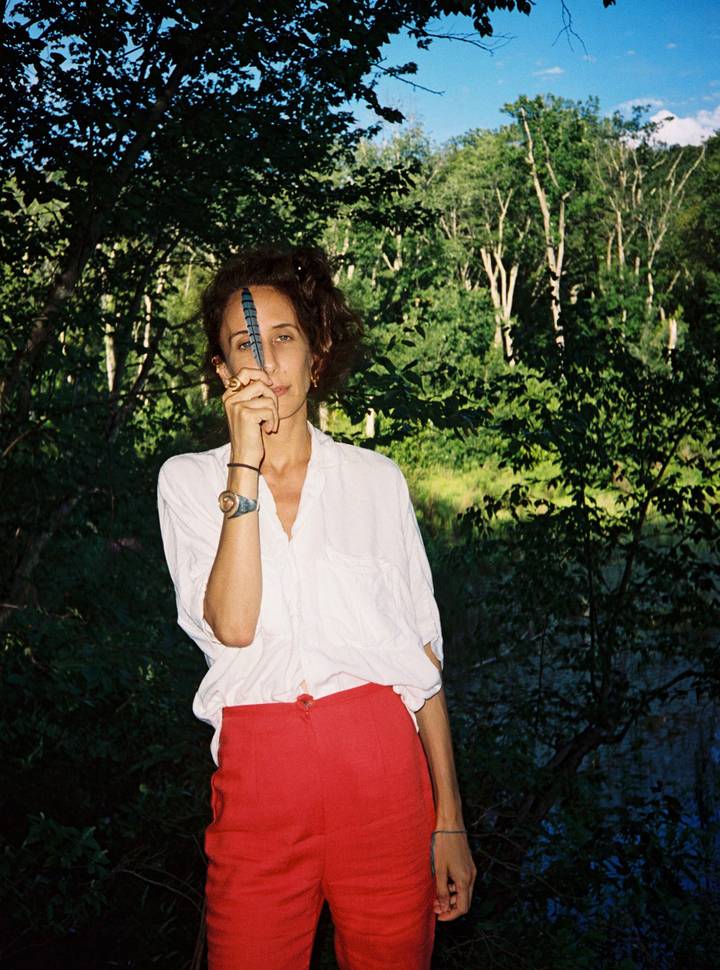 Moving the Needle (and Thread) Forward
Designer Mara Hoffman's work has always been both personal and political. Tamika D. Mallory, Linda Sarsour, Bob Bland, and Carmen Perez, founders of the Women's March, recited Audre Lorde and Maya Angelou at Hoffman's recent runway show, and she produced a campaign for International Women's Day featuring civil rights and social justice activists. She has partnered with community development initiatives on a special project with Planned Parenthood to protect access to health care for women of color, and she's often seen at activist meetings around New York City, large and small. However, for Hoffman, it's not just a matter of creating some "woke" imagery. Her wildly successful clothing business—with its inventive patterns, dreamy colors, and deliberate shapes—hasn't always been known for its environmentally responsible production. She could just sit back in one of her cult cloud-print dresses and relax, but Hoffman decided to make a deeper commitment to sustainability. In doing so, she learned firsthand how difficult—yet rewarding—the process can be. Here, she talks about this journey, and points out where the field of fashion needs to head to make ethical, earth-friendly clothes the norm. 
Click here to see our sustainable fashion photo shoot (no boring shades of tan or hippie linens in sight). 
• • •
I started my clothing brand the same year I graduated from college, sewing, beading, and dyeing pieces in my studio apartment in New York. Fifteen years later, after many evolutions from the original vision, the brand was 30 employees strong and selling to more than 500 accounts. It was a dream, but it was slowly catching up with me. In my hustle to grow the company and keep up with demand, I'd stopped creating and selling what really resonated with me. At the same time, I was becoming more aware of the harm the fashion industry was wreaking on the planet and its inhabitants. I didn't want to leave a mess on this earth for my kid to have to clean up someday. My business was financially thriving and the idea of shifting course felt unimaginable, but the idea of feeding this thing that no longer existed authentically felt just as paralyzing.
 
I knew we could do better. In 2015 I went to my director of production and told her we were at a change-or-die moment: Make changes or close shop. I didn't even know what I was asking for, exactly, just that we needed a new system, one that was more responsible and less harmful—one kinder and worthy of working for. One that was better.
 
At the time, a number of sustainable brands were coming to the surface. Everlane and Zady were talking about fair trade and supply-chain transparency, about the changes they wanted to make that we hadn't even begun to fathom. I'd had this idea of sustainable fashion that didn't align with how I wanted the clothes to look and feel in your hands. When we made the decision to become more sustainable, I thought it would mean compromising, but that wasn't the case at all. The initiative pushed us to expand our idea of what sustainability looked like; it pushed us to grow. Now we're working to implement new processes and learn more about the ones we've already implemented. We're treading lightly, because sustainability isn't a series of linear steps or procedures; every action sparks a reaction, whether you can directly see it or not.
 
Staying committed to these changes feels more urgent with each passing day. In the current sociopolitical state, we feel a pressing responsibility to speak out against environmental degradation and human rights violations. For us, it's a continuation of our mission to always come from a place of love: How much can we do, how can we help, how can we support others?
"Being sustainable isn't a clear A-to-B undertaking; rather, it's a perpetual work in progress."

There are fashion brands that have been doing this since day one. Patagonia, for example, brilliantly uses their sustainability initiatives as a foray into discussing the environment. Jewelry designer Pamela Love has been a huge inspiration to me as well, and it's so special to see a brand wholeheartedly committed to making each and every decision from a place of care and consciousness. Eileen Fisher set an enduring example by creating timelines and exploring the scope of sustainability; you're able to witness their impact in action and over the years. Brands like these have taught us how to change, how to integrate our processes and core beliefs into our communications, and how much further we have to go. For a long time, sustainable fashion felt like a different industry. It wasn't taught in fashion school, the industry at large wasn't talking about it, and it often had one singular Mother Earth, hippie-kid look. The biggest players in fashion never mentioned their environmental impact, and sustainability remained on the fringe.
 
Being sustainable isn't a clear A-to-B undertaking; rather, it's a perpetual work in progress. We started by watching other brands and partnering with organizations that help companies like ours become more sustainable: Nest, which helps us better connect with and support artisan partners; Canopy, which helped us form a policy for not sourcing from endangered forests; and the Sustainable Apparel Coalition, which helps develop sustainability guidelines for other companies on this path.
 
Today we use recycled materials in our swimwear and design each piece to minimize waste in the production process. We, along with Stella McCartney, use TIPA compostable materials that break down in just a few months and help keep plastic packaging out of landfills. Like Organic by John Patrick and Amour Vert, we're using certified organic cotton, and we work closely with Lenzing and their fibers TENCEL and Refibra, made from sustainably harvested trees. We're really excited to introduce hemp into our lines in Spring 2018: It doesn't need pesticides or irrigation to grow, and it's a sister plant, replenishing the soil around it. It feels soft in your hands and moves like linen on your body, without all of the wrinkling .
 
These processes, fibers, and sustainable options can have different timelines and higher costs than conventional methods do. But more and more designers are recognizing the need to minimize their impact—and it's clear that shoppers want clothes they can feel good about too.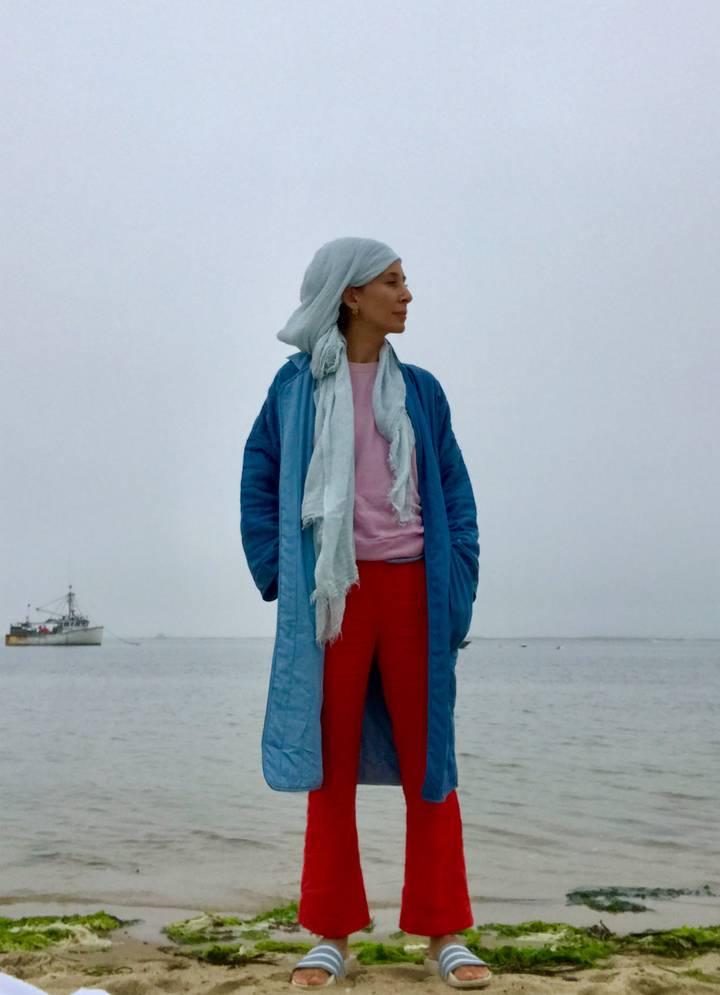 A hot topic in the industry is circularity, or finding a way to take back our clothes for resale or recycling. We, along with over 50 other brands, including Adidas and H&M, recently signed on to take part in the Global Fashion Agenda Commitment to integrate circularity by 2020. This could mean collecting your clothes when customers are done with them, breaking them down, and turning them into new pieces. It could also mean working with partners to mitigate and reuse waste from the production process. Eileen Fisher just debuted a tiny factory outside of New York for taking back their clothing and creating renewed and remade clothing.
 
Circularity is a massive—but necessary—undertaking for brands. It makes companies responsible for their clothes even after they've put them into someone else's hands. The EPA estimates that rubber, leather, and textiles account for more than 9 percent of what we throw away each year, and the Council for Textile Recycling notes that the average American tosses 70 pounds of clothes and other textiles annually. Circularity could cut those numbers drastically. Ultimately, we're aiming for a closed loop system, where we use the waste from one process in the next process, vastly minimizing waste or even getting rid of it entirely. 
 
Another thing we'll forever be working on is supply-chain transparency—having clear, accurate answers to the question of "Where did this come from?" Brands like West Elm, Cuyana, Eileen Fisher, and Filippa K have all done an admirable job with this. We have operating guidelines in place and great relationships with our factories, but it's difficult to know what goes on every minute of every day. If the aim is true sustainability, that has to include every step of the process and every hand that plays a part. We're publicly providing information about our approach, fabrications, policies, and partners while asking consumers to wash less and wear more, and to hold on to pieces longer than a couple of seasons.

 
"Opening up your options, shedding old ideas, and embracing new ones pushes designers to reach beyond their boundaries."
It's been exciting to watch sustainable fashion expand to show that an ethically made piece can be just as special as something traditionally produced—if not more. For me, the creative process must begin in a pure place, originating from something natural and inherent to oneself. To then take a deeply felt vision and bring it to fruition using fibers and processes that align with my ethics is really beautiful. Clothing design, whether for personal or commercial purpose, is an art. Opening up your options, shedding old ideas, and embracing new ones pushes designers to reach beyond their boundaries to create something different—something kinder that grows from a place of love. It is so possible.
That said, the industry at large (and we here at Mara Hoffman) have a ways to go. Working toward sustainability means identifying and questioning the parts of the industry that negatively impact the planet—while also keeping an open mind. A big flash point is fast fashion. As eco-friendly fashion has worked to slow down, to encourage buying with care, fast fashion has worked to speed up, to hit every trend and stay a step ahead. I, of course, want to slow things down, to protect our environment and the people making our clothes, but I also want to balance that with the fact that there are limited affordable sustainable options and really limited sustainable options for women larger than size 12. We're working on a capsule collection to expand our sizing and hope other brands will too. I also want to balance my efforts with the regional economies that fast fashion contributes to, the communities whose livelihoods depend on it. By eliminating fast fashion's producers and partners, you cut jobs and deprive entire communities of their sole source of income. This is a process; it's not perfect, and it has to be considered from multiple angles.
I try to hold myself accountable for everything we put out into the world, and I ask that all brands and consumers do the same. Vote with your dollar. Do what you can to support the brands doing it right, and ask the brands that aren't to change. Let's push one another to fight greenwashing, to demand transparency, and to make sure that everything said and done is said and done with care.
 
To me, sustainability simply means being conscious of both our individual and collective impact. We can recycle at home and take our plastic grocery bags back to the store, but we must continue to question whether the brands, companies, and groups we engage with are doing enough. We need to keep asking, implementing, and pushing for more.
 
We've accepted that this journey is without an end, so it's all about taking small victories, building on them, and using them as the fuel to keep moving, keep creating, and keep our minds in a space of love and light and compassion—because there is so much further to go. We'll keep pushing for more, because we need it. And we need you with us. 
 
MARA HOFFMAN founded her label in 2000 after graduating from Parsons School of Design in New York City. As president and creative director of her privately owned company, Hoffman hopes to foster mindful consumption habits and encourages consumers to reevaluate the relationship society has with clothing. Originally from Buffalo, NY, Hoffman now lives in Brooklyn with her husband, artist Javier Piñon, and their son, Joaquin.